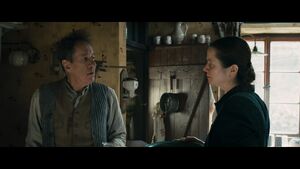 Rosa Hubermann is the foster mother of Liesel Meminger. She lives with her husband Hans Hubermann and Liesel Meminger.
Biography
Edit
In 1939, Liesel is sent to her new home at 33 Himmel Street, Molching, Germany. Rosa and her husband, Hans Hubermann, had adopted her and her brother Werner, who died on the way to Molching. She already has two older children, Trudy and Hans Jr, who no longer reside with Rosa and Hans. She has some misunderstanding with her foster daughter during her first year but cares very much for her. She uses two words, saukerl and saumensch very often when talking or referring to almost everyone, including Liesel and her father. It is revealed that these words are used by Rosa to show affection. Saumensech means "pig girl" while the other term "Saukerl" means "pig boy".
To help her family financially, Rosa does the washing and ironing for richer families from Molching. Liesel is tasked with the delivery of the washing. She is later relieved by many families due to wartime economical issues.  
Rosa dies in 1943 when Himmel Street was bombed leaving only one survivor. She is buried beside her husband in Molching.  
Appearance
Edit
She is very short with a wrinkled face, and has brownish-gray 'elastic' hair often tied up in a bun, and 'chlorinated' eyes. According to Liesel, Rosa's body is short and box-like, similar to a wardrobe. Rosa also has a distinct waddle to her walk. She is also known to be able to straighten all of the children that she has adopted out of their rambunctious behavior.